With Dodgeball being the fastest growing sport in the UK, Winger Sports Academy is proud to be the leading Dodgeball company in Essex!
Essex Dodgeball which is affiliated to the British Dodgeball is is run by Mike Linger an ex-Director of the National Governing Body for Dodgeball in the UK, who trained up a Celebrity Blue Peter Team for a Beach Dodgeball match that was televised.. More recently Mike has been on SkySports News showcasing Dodgeball to the viewers.
Our Aim
Is to encourage more teams and players in the Essex area to take up the sport and set up teams. Winger Sports Academy have already begun a huge operation to get many more people in the area involved in the fun, fast, exciting and developing sport!
Please click on the link to find out more information on Junior Dodgeball Clubs.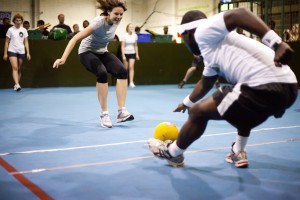 The Dodgeball programme is designed to:
Be fun and enjoyable.
For all abilities.
Give you an all over workout, at the same time combating obesity.
Develop cardio-vascular fitness levels.
Improve both arm and leg strength through jumping and throwing a ball.
Help eye co-ordination through avoiding or catching.
Increase confidence and self-esteem while working as a team.